So, I was hoping for a Christmas engagement. Yeah, I'm thinking that's not going to happen. He STILL has not given me his tax return to give to one of my lovely best friends, aka my accountant, in order to amend his 08' taxes. I know you all are asking, "What does this have to do with an engagement?". Well darlings, he is using his first time homebuyer's tax credit toward said sparkly bauble. Hmph! That is the ONLY thing I wanted for Christmas, but alas, I guess other presents will have to suffice. I really thought we'd be engaged for Christmas; and,
would then be only living in half sin so
I hadn't even thought about a list of things I would like from him, but, he asked for a list the other night. So, no ladies, don't be expecting an "I'm engaged" post on Christmas:( I'm just anothen Belle in the waiting line....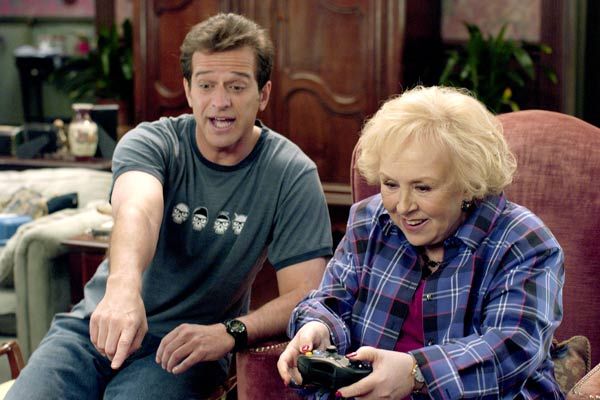 This pic is from the movie Grandma's Boy by Adam Sandler's Happy Madison productions. Hilar. Seriously, if you haven't seen this movie. You should. So funny=)
Now, this weekly Sunday conversation will STILL continue throughout the holidays (LC's mom told her mother, LC's grandmother, we're living together-HUGE mistake....*sigh*):
Grandma: So, do you like living all the way out there?
(in case you're wondering, I moved out to BFE aka the burbs)
Belle: Yes, I do. I love living out there.
Grandma: Do you feel safe?
Belle: I feel very safe. My neighbors actually wave at me and have introduced themselves. I lived a whole year downtown and that never happened.
Grandma: Well honey, I just wish y'all were married.
Belle: I know me too.
Grandma: I just don't understand why you have to wait six months at your church.
Belle: We have to go through counseling. It's mandatory.
(we're Catholic)
Grandma: I just think that's stupid. Just stupid you have to wait six months and take these stupid classes. You can just go get married at the Justice of the Peace and have a church wedding later.
Belle: I know Grandma. Hopefully, we'll be engaged soon.
Grandma
(insert crying here):
I just don't understand why LC doesn't want to get married.
Belle: Grandma, he's trying to save money for a ring.
Grandma
(still crying):
I'm just from that old school, dear. Do your parents approve of this living situation?
Belle: They really like LC. Of course, they wish I had gotten married first.
Grandma
(still crying):
I shouldn't be asking you these things, but I just don't think I'll make it six months.
Belle: Now, now, grandma. You're 83, and you're still here. You'll be here. Don't worry!
Grandma
(still crying):
I just love you and want y'all married. You're a sweet girl!
Seriously, this conversation happens E.V.E.R.Y. Sunday. She thinks I just moved in with him in the new house. She has no idea he lived with me in my apartment for the past year. Except this past Sunday, I did not go out to LC's parents for dinner. I went to visit my parents, and I went Christmas shopping with my Mum.
LC called me after dinner to check in. This is our conversation:
Belle: I called you earlier because I hadn't talked to you all day.
LC: I know. My grandma asked where you were today. I told her I didn't know. She asked me what did I mean I didn't know. I told her I didn't know where you were; because, I didn't know your exact location when she asked me. So, she asked me if you had left me.
Belle: Bwahahahahahaha. I love Grandma
(see grandma knows I'm too good of a catch. It wouldn't be LC doing the leaving)