I have really been trying to curbtail my shopping! My main priority after getting through birthdays, Father's Day, weddings, etc. is to get to work on getting my c/c paid down. It's a neverending battle which I'm sure you shopaholics know all about!!! I happened to step into NY&Co. the other day and fell in love with this
Streetwear Goddess Maxi.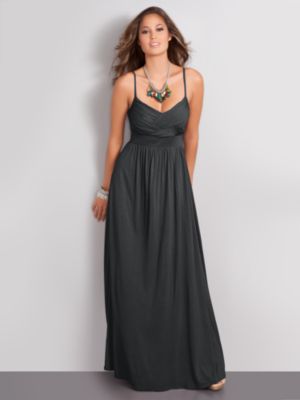 Here's an upclose of the top of the dress. It's one of those that can be uber casual or dressed up with accessories.
It comes in different colors/patterns. It's only $49.95, and I'm sure if you wait there will be a coupon that you can use for it. I will DEF be getting it when a coupon comes my way:)
Sorry, posting has been rather sporadic lately:( One of my co-workers transferred positions which has left an overload of work for me!!! On another note, LifeguardPress sent me some LP and Johnathan Adler items to review....so, look for one of those this week!