Today I'm going to blog about my fave hair and body beauty products.
For my hair these are the products I use:
I do dye my hair. For the longest time, I was blonde. A beautiful, beautiful blonde. Recently, I dyed my hair back to it's luscious, dark brown natural color. With this being said, I get my hair done at
Eston Salon Spa
. They are an
Aveda
salon. I used to go to other salons that use all the other name brand dyes but have found that Aveda is the best for my hair. It feels less damaged with Aveda products versus the ones used before. Trust me keeping your hair blonde when it's naturally dark is a job in and of itself; so, I know about dye!
Also, I use Aveda products as well. They just smell so clean as if you just walked into a spa. You should go to an actual store. If you're a Memphian reading this or come to Memphis, you should drop a visit to the store in East Memphis at Oak Court Mall.
I use the
Color Conserve shampoo

and the Black Malva Conditioner(to help keep my color in check)

I do not have very thick hair. I actually have thin, fine hair but alot of it for which I am thankful. I use BigSexyHair's Root Pump. This product is perfect for you if you have hair like mine, or even if you just want to boost your volume. I spray it on the sides, crown, and where my hair parts.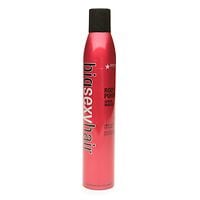 Also, I spray on Aveda's damage control. I try to protect my hair since I have to blow dry it sooo much. Also, it's pretty darn good for tangles, for me at least.


Whenever, I have flyaways especially if I'm behind on my haircut, I like to use Aveda's smoothing fluid.

Then I use VS So Sexy Volumizing mousse, blow dry, and I'm set as far as hair goes!

However, if I'm going out for a night on the town, I'll substitute my Aveda shampoos for the Ojon line. I love the Hydrating Thickening Shampoo and Conditioner. Then, follow it up with the BigSexyHair Root Pump and some Ojon Conditioning Volumizing Foam for my hair all over.


For a BIG night on the town or I'm not running EXTREMELY late, then I pop these Remington TStudio Tourmaline Heated Clip Hair Setter rollers in my hair. They are perfect and don't cause as much damage as the "original" hot roller. I love them!

As far as my body goes, I use whatever shower gel, soap, or yummy smelly good stuff I find at VS, Bath&Body Works, Crabtree and Evelyn, etc. I just use whatever I am kinda in the mood for at the moment. Although one of my faves is Victoria's Secret Hottest Body Crackling Body Wash. I ♥ it:)

For exfoliating, I have always used Smoothing Body Polish.


If you're ever in a pinch and can't shave in the shower and hate the razor burn of having to shave in the sink or shave those underarms, then you should try VS Soothing Shave Cream. It's a life saver in those situations. I always keep a bottle in stock in my bathroom!

Another one of my fab secrets, was one found by mistake. I wasn't really shopping for it ,but the counter girl talked me into it. And, I haven't looked back for 8yrs and counting. In the summer, your legs can get dry from laying out in the sun, chlorine from pools, and lots of other stuff. So, if I'm going to wear a dress, the last thing I put on before I leave the house is Benefit's Body So Fine Body Balm. Your legs will have the silkiest, smoothest feel texture you will ever feel. Nice fix b/c you never want to look like you have dry skin. The fragrance is nice too:)


These are just some of my personal recommendations!