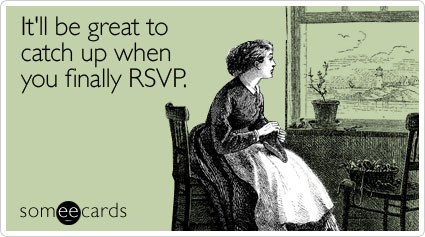 I had to add this because it's kind of funny. We are STILL getting rsvps back in. Ummm hello, the wedding is like a week away. We've already told our caterer the headcount. Funny, how people don't realize how important these things are.
I swear I'm so over today. In about 3 hours it will be officially one week until our wedding. My schedule is going to be crazy.
Here it is starting today:
Friday night: work
Saturday: make program template and email to church lady for approval; work
Sunday: grade papers, get bridesmaids bags ready, do two months worth of laundry
Monday: get hair done, pick up the rest of gifts for the wedding party, pick out cardstock for flip flop tags, go to Michaels to buy ink, work
Tuesday: final fitting of dress, practice makeup on my mother(she never wears any), work, buy bathroom basket materials; work
Wednesday: put together tears of joy tissue packets for ceremony, print programs, grade papers, make lesson plans, try not to lose my mind
Thursday: go over all last minute details, drop stuff off to event planner, pack my bags
Friday: get nails done, drop off napkins and straws to caterer, rehearsal, rehearsal dinner, having besties spend the night with me so hopefully I won't be too nervous
Saturday: THE BIG DAY:)
So, on the way to school the other day, I was about a mile away when my car wouldn't go into 3rd gear. It just kept slowing down and sloooowing down and sloooooooowing down. I pulled over because I knew something wasn't right. So on top of the crazytown schedule I just posted, I found out today that I NEED A NEW TRANSMISSION. Yeah, life kinda sucks right now. I still owe $40 to the florist and $100 for our cantor. I'm literally about one step away from a breakdown. I'm super stressed out:(
It will all be over soon. Just wasn't expecting to have to get a new transmission or possibly new car right now. In all reality, I can't afford either.
Hope your week is going better than mine!