Let me start off by saying that I try not to openly bash companies on my blog. Normally when I have an issue, most retailers are quite pleasant and accommodating and try to make sure the consumer is happy. I mean it is a recession after all, right? I always try to go through the proper channels.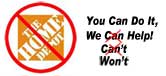 To make a long story short, before Christmas I happened to go in Home Depot with my father. I will preface this by saying that probably 98 out of 100 times my hubs and I go there, we *might* purchase something. My husband and father both prefer Lowe's. My father complains about never being able to find someone to help him, hubs complains often they don't have what we need, etc. While with my father at HD during Christmas, I noticed Martha Stewart's Holiday collection. While I thought it was beautiful, I didn't think the ornaments justified the price. I knew eventually they'd go on sale, and a sale price would be worth it. My dad knew I liked them and bought some for me for Christmas, and I went to purchase some after Christmas since they were on sale. You see...I'm a first time Home Depot customer. I've never bought anything there. I liked that I could order over the internet in-stock items (like my ornaments) and pick up in store. Not to mention, HD is on ebates. When I went in a store (not the closest one to me but one 30 minutes away---they had the ornaments in stock when i purchased online), I also purchased some more of the collection while I was there. I purchased more than what I had anticipated on my budget because I asked a sales associate if they did price adjustments. I knew these would reduce in price in a couple of weeks, and I could buy more and still stay within my budget with the price adjustment. I figured it was 14 days like most retailers but wanted to ask to make sure. The associate told me it was 30 days, and I could take it to my HD closest to me and proceeded to tell me that a lady had come in two different times already that month and got price adjustments on a lamp she had purchased. I was like awesome, I'll buy the other things I'd been wanting because a price adjustment will allow the me the leeway to stay on track $$wise. The reason I asked the associate in the first place was because on the items I picked up the receipts stated 30 days but there was no mention of a price adjustment policy. Also, the receipt mentioned a term about "limiting" or something like that on returns. There was no holiday sign saying final sale, no price adjustments, no returns, etc.
Today, it's only around 16-17 days later (remember---i have 30 days) to get my price adjustment. The help desk girl was not friendliest person I've ever met, nor was she entirely rude. She said since it was holiday I had 7 days to return. She got her manager on duty, and he stated 14 days. Then, I proceeded to explain what I was told, and he talked about it being holiday and it doesn't correspond with the regular return policy. He said he could not honor what I was told. Okay, fine. I get it; it's not your store. You don't want to eat this on your books. I understand.
So, then, I call the store where I actually purchased the items and asked to speak to the manager. I was put on hold, someone picked up and didn't say anything but put me right back on hold, finally an associate answered. She was very polite. She explained her boss was with another customer and would I like to wait. Eventually, she clicked back on and asked if he could call me back. I told her that was fine but also explained the situation. About 10-15 minutes go by, and I see the store calling. I was expecting to speak to the manager, but it was the associate. She told me her manager was still in a meeting---okay, that was NOT what I was told the first time around---and that she had popped in and explained the situation. The manager told her that he would NOT honor what his sales associate told me because they were holiday items. I WAS ANGRY. I could understand if he was rectifying the situation and having the associate call me back. However, it seems as if he did not want to deal with me. It's easier to say no on the phone than to tell someone in person. And it seems to me that he did not want to talk to me and told her to just tell me that he was still in a "meeting."
So, I'm putting it out here on the interwebz. I will NOT be shopping at Home Depot again. I will ONLY shop at Lowe's or other places like Tractor Supply. I don't care if I have to pay MORE. Lowe's always has help when you need it, always try to keep their customers happy, and are very accommodating. I have NO doubt if this had happened at Lowe's that we wouldn't even be having this conversation. Needless to say, I'm a FIRST time and LAST time customer at Home Depot.
Have you ever had issues with Home Depot?
Edited: I posted the link to this post on HD's Facebook page. The customer service/social media person commented and we chatted via email. She was VERY nice and helpful. She is the ONLY reason I will shop with HD again. She ended up sending me a HD gift card for half of my bill. I think this more than made up for the lousy way things were handled. This will make me try to shop there again!