So, this is my hospital toiletries bag. Yeah... I only used my face wash and the balm chicky balm balm lip balm. So, here's what I used for the 4 nights I was in the hospital.
FOR YOU:
1. definitely face wash [makeup wipes if you use those], lotion, and chap stick
**definitely do NOT forget chap stick. i read about lips getting chapped during labor, and it is so
true! i really like my
balm chicky balm balm
!
2. your baby book for hand/feet stamping
3. a loose pair of pajamas. i bought
these
because they were comfy, dark [in case you bleed on them], and something nice for when we had visitors. because when you have a baby, people ARE going to come see your little one:) Also, you might want to pack a take home pair of pjs. Make sure they are LOOSE. or make sure you pack some maternity pants to go home in.
4. nursing bras--i didn't end up using these, but they might come in handy if your milk comes in early.
**make sure to pack a few nursing pads to go in the bra, just in case. i packed the samples i had
received from my welcome bags from various places
5. a boppy pillow--i didn't use one b/c i had my c-section, but i use it every day now at home. so, if you don't have to worry about that, it might come in handy for feeding:)
6. flip flops for the shower
7. see if a restaurant delivers. saved my hubs. he didn't want to eat hospital food and Jimmy John's delivered straight to our hospital floor.
8. pillow--i wish i would have packed my own pillow, but i forgot.
9. phone charger and camera!
**take whatever the nurse will give you. we brought home extra mesh undies [loved these the first few days at home], pads, and the compression binder i wore in the hospital.
FOR BABY:
1. pack a few outfits just in case. originally i'd only packed a couple of outfits but am glad i packed like 4 since i ended up in the hospital for 3 days. plus, if your hospital is like ours, they have a photographer come out and do a little photo shoot. plus, you'll want to post pics on social media so make sure you have your outfits so your little one can look cute when you introduce him/her to the world:) Also, make sure you bring any accessories such a hat, bow, receiving blankets, etc. the hat they put on her didn't really fit her head. so i'm really glad i had brought my infanteenie beenie with me. it was really cute, and i was very pleased with my purchase. i bought the
flower beenie
below. SO SO cute!!! also, i was glad i brought my own receiving blankets because they used one as a backdrop for the photo. Use promo code THANKS for 20% off.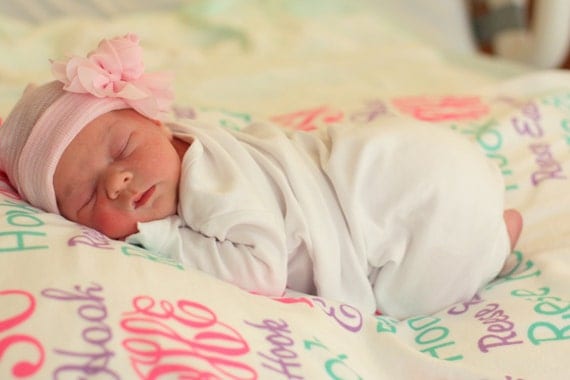 2. my hospital provided everything else such as diapers, wipes, pacis, etc. Literally, we only needed to bring the outfits. Not to mention, my hospital provided burp cloths and these little plain white kimono tops.
3. another thing you might now think of but probably need to pack is mittens. baby caroline grace came out with some sharp little raptor claws. so having the mittens kept her from scratching herself AND me.
4. socks. if you aren't bringing footies/sleepers for babe to wear, make sure you bring socks so his/her little feet don't get cold.
This is just my experience:)