I'm really ready for Xmas. I'm actually REALLY ready to get off work at noon on Wednesday and have a day off on Thursday. Although, these days will probably be soooo busy that it won't feel like a day off.
I, sometimes, wonder if people's parents taught them morals in life such as HONESTY IS THE BEST POLICY. I mentioned in a previous post about my packages being sent to my old address b/c I hadn't updated my Ebay account. Well, LC's present was obviously too large to be put in the box; so, it got sent back to the post office. I was able to pick it up there before it was forwarded to my new address. However, my cookbook was small enough to fit in the box and was labeled DELIVERED. Ok, you know when you get something in the mail that is obviously not addressed to you that you should send it back. I'm sure they get junk mail with my name on it. The manager of my old complex put a call into the tenants and still hasn't received a call back. what dishonest people:(
On another note, I'm thinking LC has bought me a watch for Christmas. He asked me why I turned the computer on to which I replied that I hadn't. I went to look at the computer and told him there was some kind of update trying to load. Then, he was like get away from there. I saw the following words in the address bar: bulova, watch, diamonds. Hmmmm, I'll take it:)I'm not sure if this is the one he has in mind, but I could see it on my wrist:) Although, I could just be wishful thinking and it might totally be some random thing he looked up.....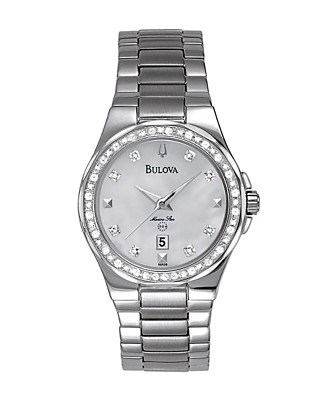 I actually just got back from lunch with him. Whenever he has a day off, he takes me to lunch even though it's on the opposite end of the city for him.