I'm still shopping don't worry. I'm just being more of a
recessionista
. You know catching things on
Ebay
, or hitting up sales with coupons of course, and paying CA$H only. No charging. Yes, I'm being a good girl=) Here are a couple of the purchases I have made recently.
I found this strapless "swim cover-up" at Target, but I wear it as a maxi dress. They do not show the other color option that I bought. The dress I have is all black. On the smocking, there is green, yellow, and red thread horizontally. The dress itself is all black. And for $19.99, ladies you really can't beat that. They did not have this print at my Target, and I must say I don't think I would have purchased it anyways.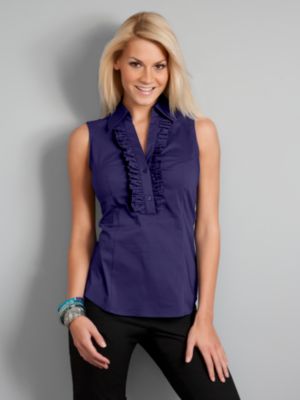 I bought this shirt in a baby blue pinstripe. And, I must say that it looks great paired with white pants or a white skirt. I liked it so much that I returned because I so desperately wanted it in the pink pin stripe, but it was sold out:( Therefore, I resorted to the purple one. Purple is a color of royalty ya know.
LOL
=) I'm a sucker for ruffles....
Please see my previous
post
. I really do appreciate all
y'alls
recipe suggestions!!!
FYI(my gift to you): I received an

Ecookbook

in my inbox today from a friend of mine. It has "famous" restaurant recipes from places such as The Cheesecake Factory,

O'Charleys

,

Houstons

, Ben and Jerry's, Chick-

Fil

-A, Olive Garden, and so forth. If you'd like me to email it to you (even you visitors) just leave your email and let me know. I'm more than happy to pass good things on=)