So, my thoughts on this....you do the crime, you do the time.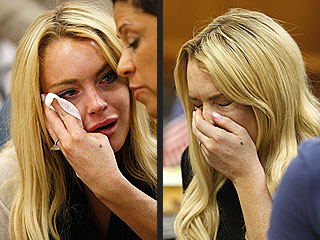 "I did everything I was told to do, I thought I was being compliant," Lohan, 24, cried as she tried to explain that she didn't knowingly violate her probation in a DUI case by missing weekly alcohol-education classes. "I'm not taking this as a joke, it's my life and career. I don't want you to think I don't respect you and your terms."
(I say BS!)
I say FAIR. 90 days in rehab and 90 days in the slammer is perfectly justifiable. I say slammer comes first, rehab second. Sober her up in jail and clean her up in rehab. Just because she's a celebrity doesn't mean she's above the law. The verdict is
FAIR
.
So, do you think the verdict is fair? I'd love to hear your thoughts!!!