We went on vacation about two weeks ago which I think is the first time we've gone on one since our honeymoon two years ago.
My only outfit post for the whole time in Florida. I just didn't think about it because I was having so much fun! I'm such a beach/water person:)
OOTD: Shopping on a Rainy Florida Day
top: Lilly Pulitzer polo
shorts: Lilly Pulitzer Callahan in You Gotta Regatta
shoes: Old Navy tortoiseshell flip flops
accessories: Lilly Pulitzer sunglasses in Hotty Pink First Impression/ bracelets: David Yurman
handbag: Longchamp
We stayed at
Silver Shells Beach Resort & Spa.
I highly recommend if you're looking for somewhere in Destin, FL and looking for convenience. It's beachfront with pools, hot tubs, workout facility, spa, The Sandbar- hut on the beach that serves food and drinks [servers will walk down the beach and take orders but the hut has a bar where you can sit at], and there's a Ruth's Chris Steak house in the parking lot. Not to mention, it's right in the middle of Destin. The Walmart is basically across the street, it's a few lights down from Destin Commons, and literally 5 minutes or less to the outlet mall. Such a great place to stay!
All we really did was just hang out on the beach and eat. lol.
Places we ate:
This place is seriously so good. We went for lunch, and I had a club. It was so so so good. We also went one morning for breakfast. I had the French Toast bagel with a combination of strawberry and cheesecake cream cheeses, and it was delish!
The night we went they had $2 off sushi rolls. It was REALLY good:) I'm not a huge seafood eater, so when it comes to rolls, I'm kind of limited. I ordered the Steak roll thinking it would probably be nothing special. And it was SO freaking good. Actually, all my sushi was good. If you're looking for sushi while you're down there here ya go...
Cafe Thirty-A is on 30A [you know if you're in the South, you've seen the 30A stickers on people's cars]. It's located in Seagrove Beach which was about 30 minutes from where we were staying. I had the crab cakes, and they were seriously the BEST crab cakes I've ever had! I forgot to take a picture, but here's one I found on google image. My dish looked exactly like this pic.
We had lunch at Tommy Bahama one afternoon. Our friends talked about how good it was, and they wanted us all to go there. I ordered the cuban sandwich, and needless to say, if I didn't have to take some medicine that must be taken with food, I would have asked my server to take it off my bill. It was pretty bland, and it had pulled pork on it with a texture I didn't like. My sweet potato fries and strawberry lemonade were very good though!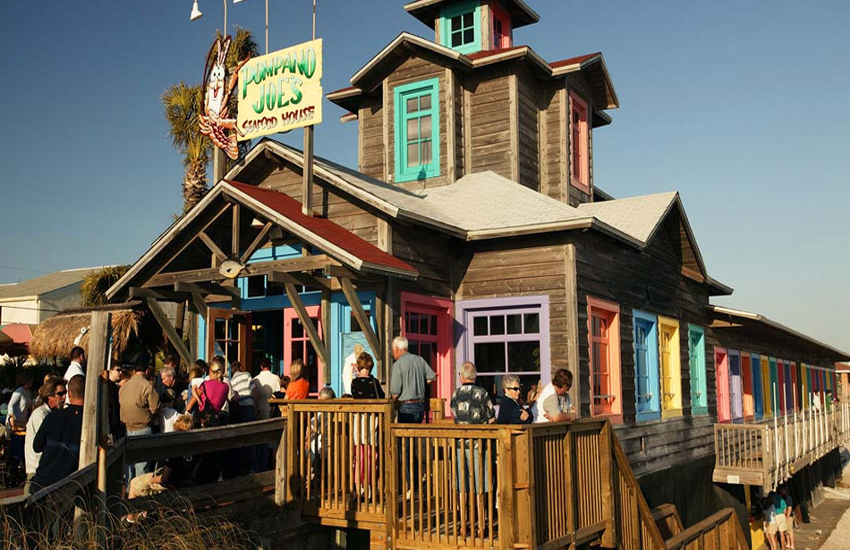 Our last night in town, we headed to Pompano Joe's. I like PJ's in the fact it's pretty reasonable, and the food's pretty good for the price. It's not Cafe Thirty-A by any means, but I like it. I had the Crab Cake sandwich with a twice baked potato. A few years ago, I went with friends to FL, and we rented a house in a community across the street from this part of the beach. We'd walk across with all our beach gear and spend the day playing games and laying out. For lunch and/or drinks, we'd just walk up to Pompano Joe's.

The next time we're in Florida, I'd like to try out Whiskey Bravo!
As far as the outlet malls go, they have tons of stores. I spent $100 between Gap and Banana Republic. That was what I budgeted before I went down and remained loyal to that figure!

Gap:
two 3/4 length striped boatneck tees
1 clearance embroidered summery type sleeveless top
1 pair of leather flip flops
1 clearance cardigan
Banana Republic:
3 crew neck tees [seriously the best and only sold at factory stores]
1 ombre tank top
1 pink/white striped oversize blousy type shirt
And honestly, I can't remember what else, but I know there's more. It was quite a bit of stuff for just $100. Also, if you go, make sure you google factory coupons. BR and Gap both had 15% off purchase coupons:)
One night, the boys cooked for us which was alfredo with scallops and shrimp and a wonderful fruit salad. For lunch, I ate packaged fruits & cheeses I picked up at Walmart. And for nights we didn't go out to eat, we grilled hamburgers.
FYI, don't forget to enter to win a Southern Living cookbook here. All you have to do is to leave a comment with a link to your favorite recipe on the post. :)
All pics with the exception of my OOTD were taken from google image. i was too busy having fun to take actual pics of the places i went to.